Marinated Shrimp Tacos with Mango Salsa are a lighter take on a typical fish taco. Spiced shrimp loaded with shredded cabbage, avocado, fresh mango salsa and feta cheese.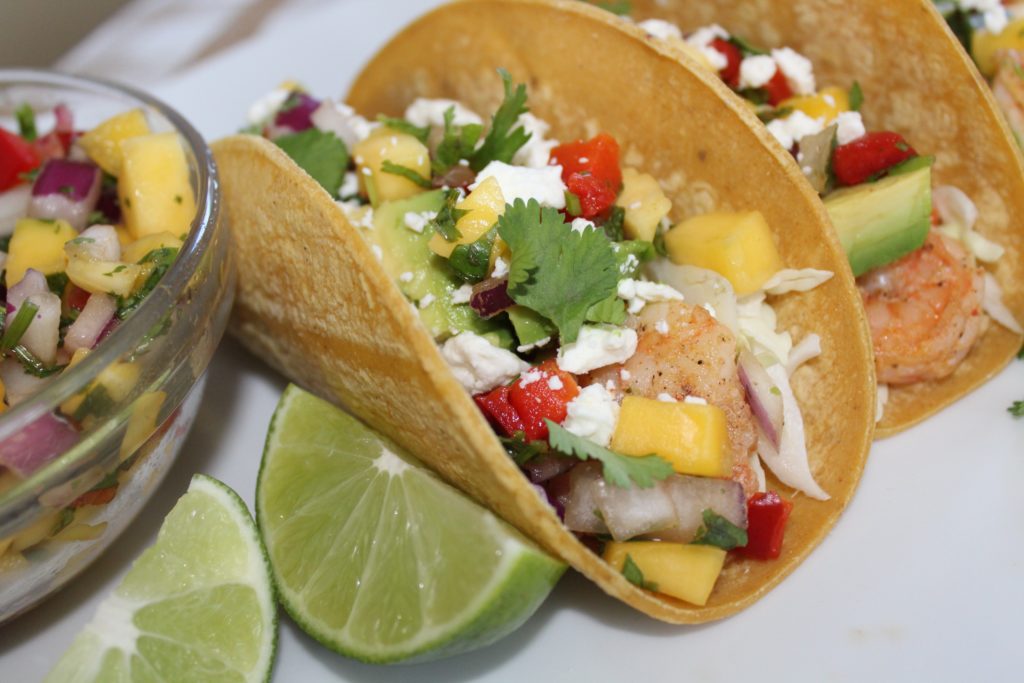 Since moving to San Diego a few years ago, I've had every kind of taco you can imagine. Every block in my neighborhood has a taco shop or Mexican restaurant. However, out of all the taco's i've tried, my favorite has always been the shrimp taco. It's a lighter choice than a fried cod or fried calamari taco. It's also easier to make at home. I make these shrimp tacos frequently at our house, since I love this recipe so much!
I started out by dicing the fruit and vegetables for the mango salsa. This includes – red onion, red bell pepper, mango, jalapeño pepper, cilantro and lemon juice. Mango is such a great pairing with spicy shrimp. Its sweetness doesn't overpower the other flavors, which makes for an excellent addition to a salsa.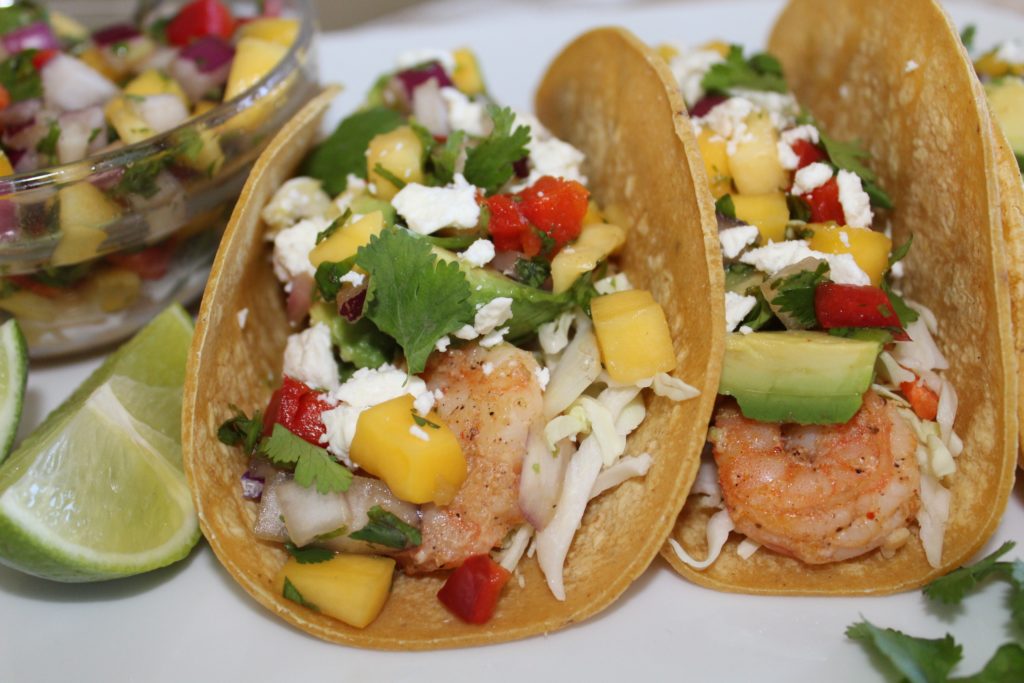 The shrimp are an incredibly easy food to cook. I like to use raw shrimp to keep them as fresh as possible. In a bowl, you simply add olive oil, cumin, garlic, chili powder, old bay seasoning and a little lime juice. Then you add the shrimp and toss until coated. I usually make this marinade and let the shrimp rest in it while I prepare the mango salsa. That way the taco's are ready to eat once the shrimp is cooked.
Want More Healthy Recipes?
Let's Connect!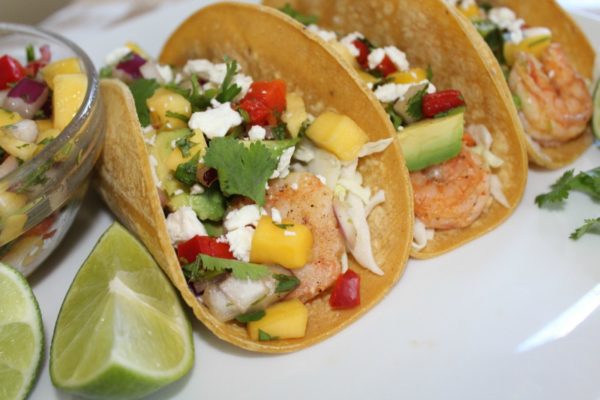 | | |
| --- | --- |
| | |
In a large bowl, mix all of the ingredients for the mango salsa and and set aside until ready to serve.

In a medium bowl, combine shrimp marinade ingredients. Add the peeled and deveined raw shrimp and mix together until shrimp is covered.

Heat a large skilled to medium-high. Cook shrimp for 1-2 minutes and turn over with tongs to cook for another 1-2 minutes until done.

Warm tortillas in the microwave. In the warm tortillas, place a small bunch of chopped cabbage, then 4 cooked shrimp followed by a big spoonful of mango salsa. Top with any additional topping you prefer: feta cheese, sour cream, hot sauce etc.