You'll do your body good with this Healthy Chicken Poblano Tortilla Soup. The homemade tortilla strips and a bit of kick from the pepper makes this such a flavorful soup.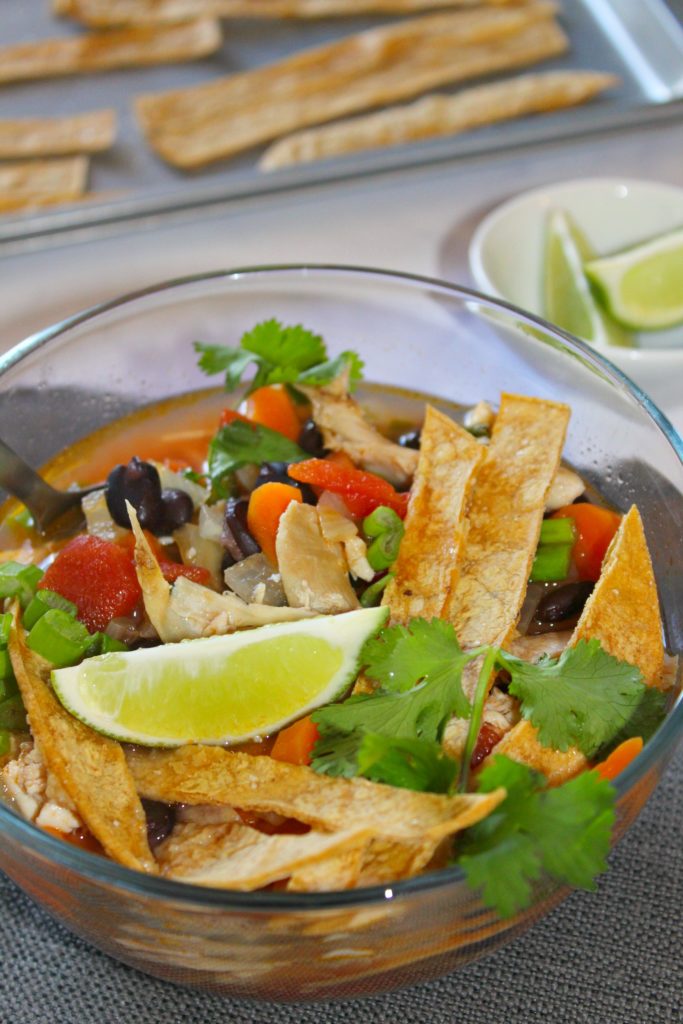 I love a good chicken tortilla soup, so I'm always looking for new recipes to try. Tortilla soup can vary between broth-based or creamy. Both ways are equally delicious, it just depends on what your looking for or your diet preference.
Back in college, I was introduced to a simple 5-ingredient creamy chicken tortilla soup. It's certainly not the healthiest recipe. All but one ingredient came from a can – cream of chicken soup, cheddar cheese soup, canned shredded chicken breast and enchilada sauce. The final touch was a cup of milk to thin it out. Of course, I would have to add toppings like crushed tortilla chips and green onions for added flavor. It was tasty, but since college I have a better idea on what a really great chicken tortilla soup should taste like. 
Which brings us to this super comforting soup with vibrant colors and loads of flavor.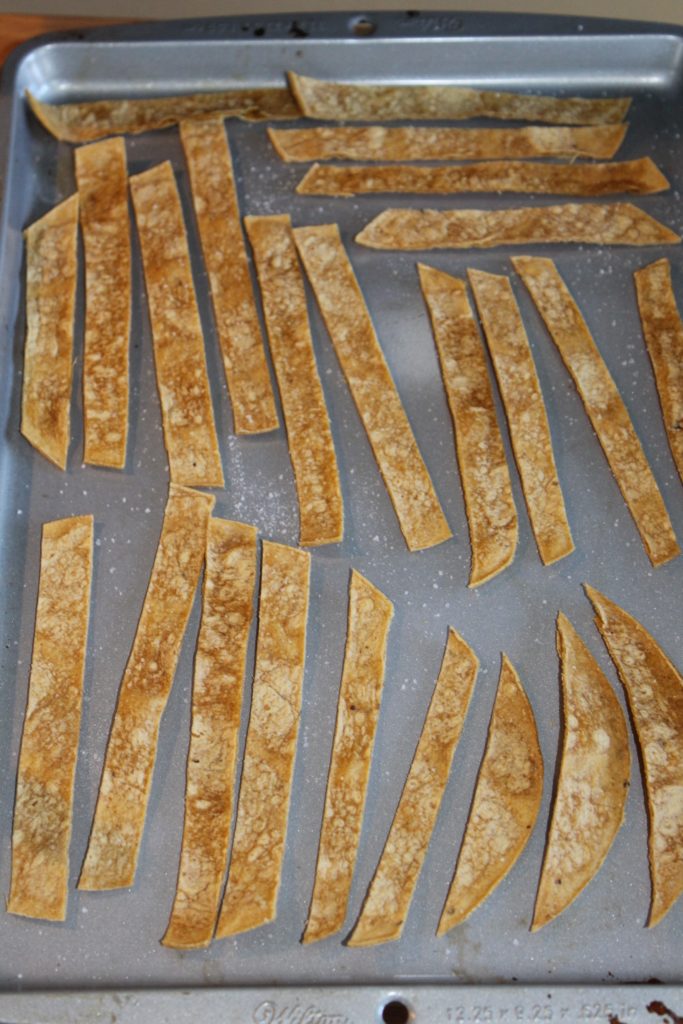 Making your own baked tortilla strips are a much healthier option than store bought tortilla chips. You can control the salt quantity, crispiness and they only take 10 minutes in oven.
Plus, I found that 4 tortillas make the perfect amount for 6 servings of this soup!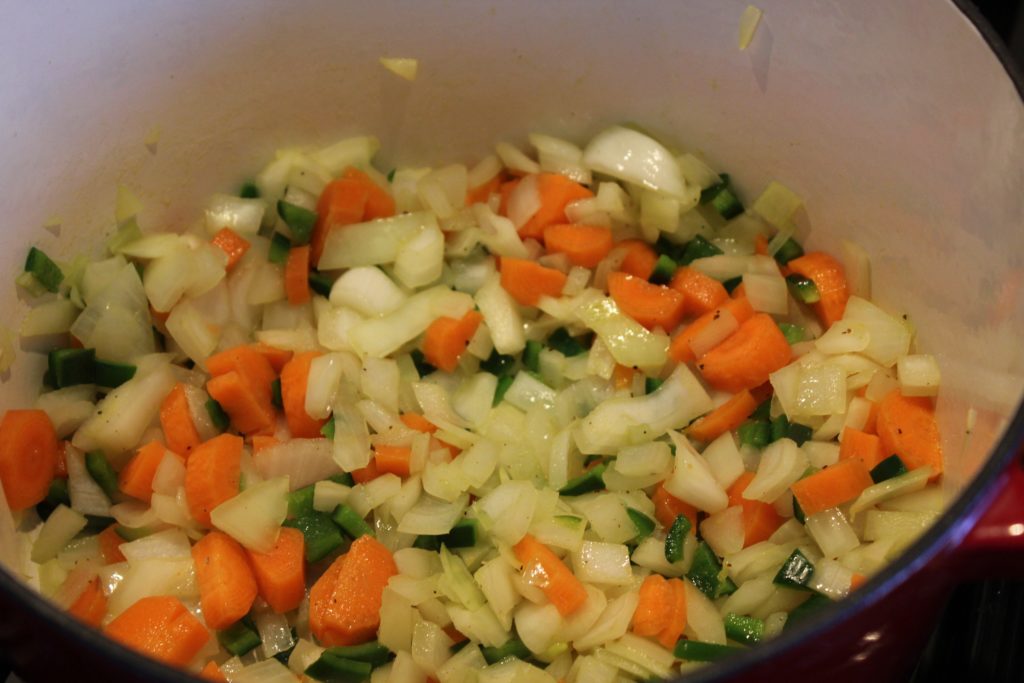 Getting the colorful vegetables simmering in the stock pot before adding the final ingredients.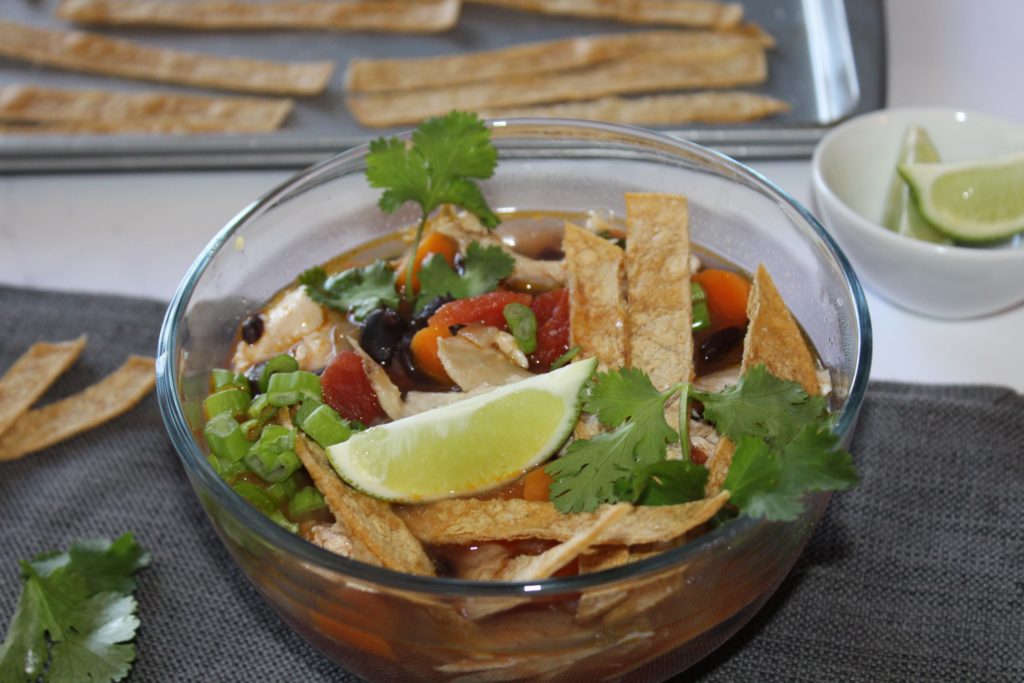 Once the carrots have become tender, the soup is ready to eat. You may add any toppings you like. My favorites are cilantro, lime wedges and green onions. Don't forget to toss in those tortilla chips too! 
I'd love to hear what you thought of this healthy soup recipe! 
More Healthy Recipes To Try
Let's Connect!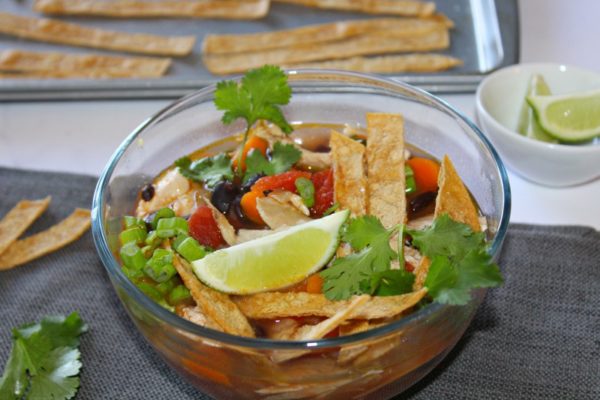 | | |
| --- | --- |
| | |
Over medium-high heat, add olive oil to a large stockpan or dutch oven. Add onion, poblano pepper, carrots. Saute for 7 minutes. Add chicken stock, diced tomatoes, black beans, salt and pepper; bring to a boil. Reduce heat, cover and let simmer until carrots are tender, about 8-10 minutes. Stir in shredded chicken and cilantro. Divide soup mixture between bowls. Garnish with green onions, cilantro, lime wedges and tortilla strips.

For tortilla strips: Use round pizza cutter to cut 1/2-inch tortilla strips. Spread out onto sheet pan, sprinkle with kosher salt. Bake at 375 degrees for 10 minutes.