There is something about home made Chicken Noodle Soup that makes you feel better. It is comfort food that cures colds and warms you up on a cold winter day.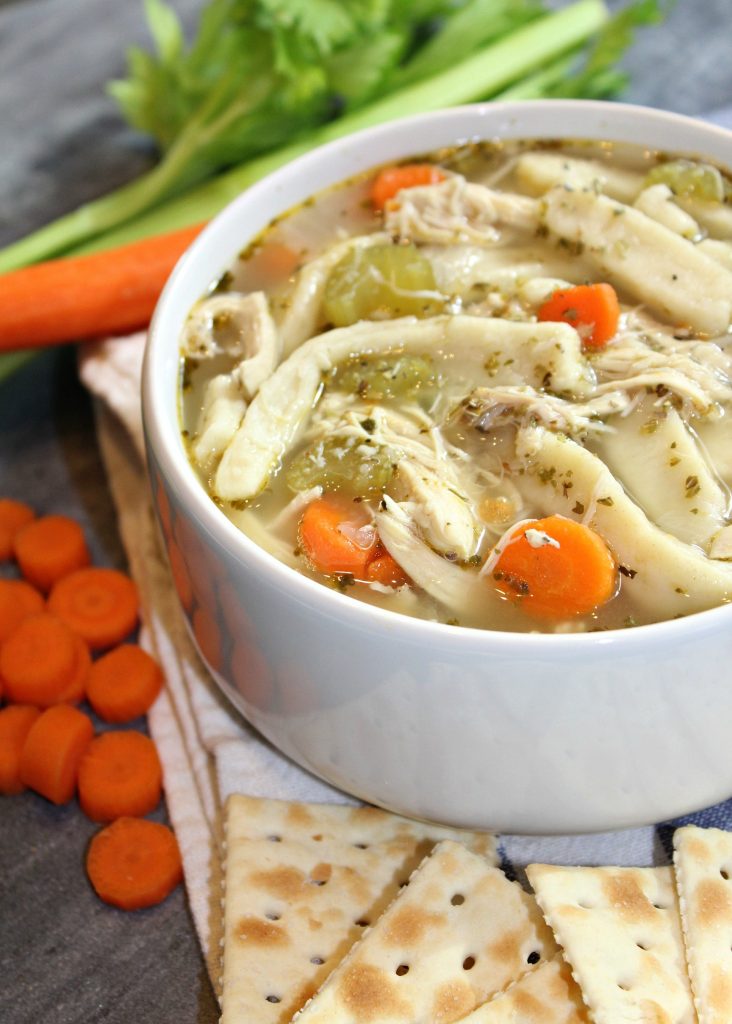 When I was a child, homemade chicken noodle soup was a staple meal in our home. My siblings and I always knew when a pot of it was simmering. The flavorful smell of the broth and chicken would fill the house. Over the years, I've adapted the recipe to using rotisserie chicken. My mom still prefers boiling a whole chicken to make the chicken stock, but either way you get a savory chicken soup. You can buy a rotisserie chicken in most grocery stores. You simply pull the meat off of it and shred into bite size pieces. Some stores even sell pre-packaged rotisserie meat.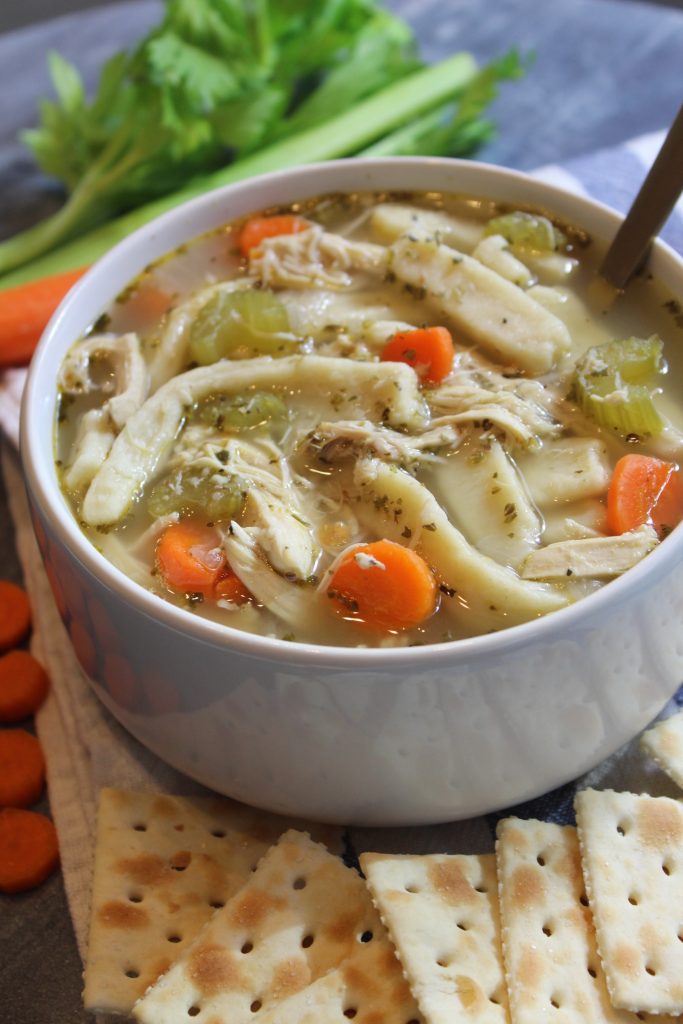 This soup is easy to make from scratch. Even the noodles are incredibly simple. Start by combining the flour, salt, eggs and cold water and mix with your hands to form a ball. Next, you divide into thirds to make it easier to roll out each piece to create the noodles.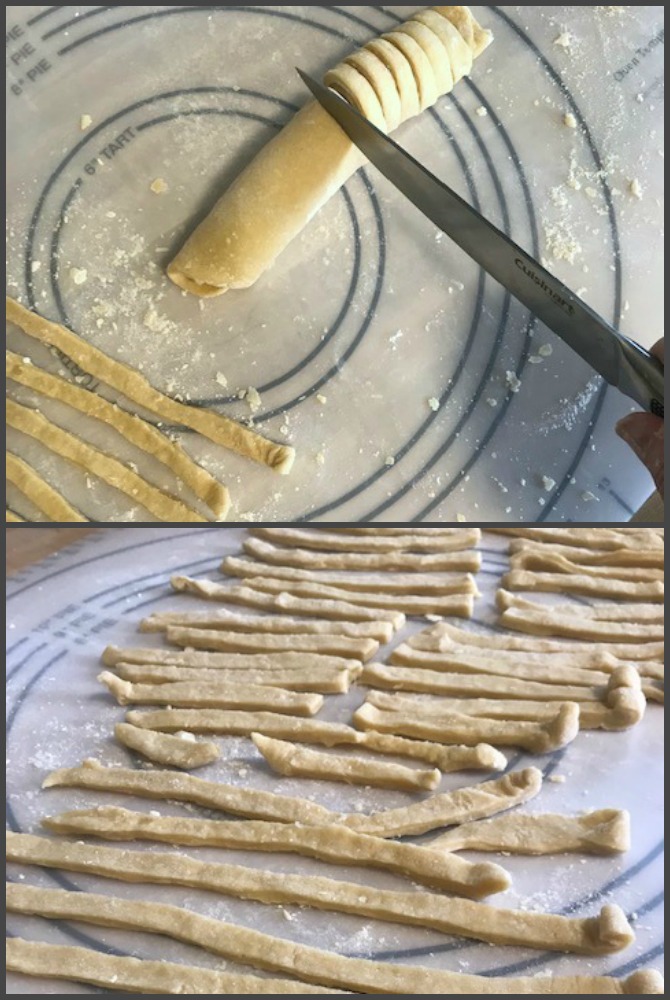 Don't make the same mistake I did. 
I had an issue with the noodles sticking to any surface I let them dry on. It seemed that any floured surface wasn't working. The noodles became stretched out to look like dumplings. However, my whole world changed when I asked my mom how she was able to lift the noodles without sticking. PASTRY MAT! I immediately ordered one from Walmart for $4.99. It was a complete game changer! I highly recommend getting one to use anytime you roll out dough. 
Once the noodles have dried for a couple hours, its time to get the broth boiling. Then it is time to add in your preferred vegetables. My go-to soup vegetables are carrots, onion and celery. As for seasonings, the one not to forget is the marjoram. The marjoram gives the soup it's flavorful taste and that all day in the kitchen smell.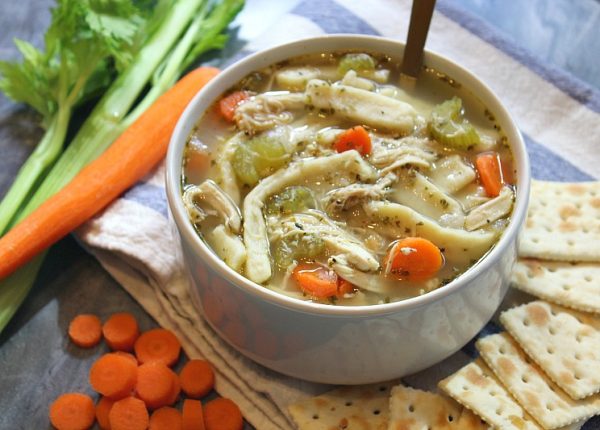 | | |
| --- | --- |
| | |
In a deep mixing bowl add 2 cups of flour and 1/2 tsp salt. Make a well in the center of the flour; add eggs and water. Gradually mix with hands or spoon until well blended

Gather into a ball and knead on a floured surface until smooth. Add flour as needed to keep dough from sticking to surface or hands.

Divide the dough into thirds. Roll with a rolling pin, each section into a paper-thin rectangle. Dust top of dough with flour to prevent sticking while rolling. Trim edges if needed to form a rough rectangle shape.

Roll each dough section jelly-roll style. Using a sharp knife, cut 1/4-inch slices. Unroll each slice and allow to dry before cooking (2 hours).

In a large pot, add chicken broth. Bring to a full boil. Add shredded chicken, carrots, celery, onion, parsley flakes, salt, pepper, and marjoram. Bring back to a full boil and and drop in noodles as you slowly stir so they don't stick together. Add bay leaf.

Once all the noodles are in with the soup and boiling, turn down the heat to simmer for 45 minutes. Ladle soup into bowls and enjoy!