,An Easy Rotisserie Chicken Pho that only takes 30 minutes before your slurping your first noodle. This recipe is a shorter version of the popular Vietnamese soup.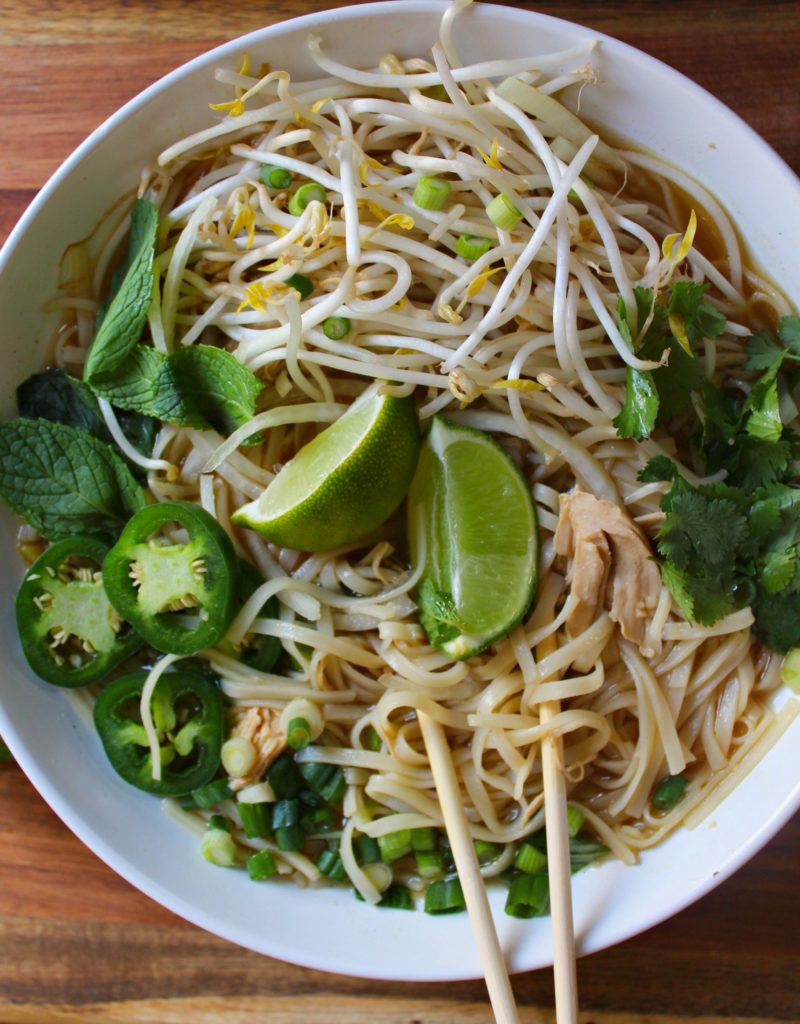 My Pho soup addiction began the first time I ate at an Asian Fusion restaurant in my neighborhood. I would see people slurping noodles from a huge bowl using chopsticks. I was intrigued to know what it was, because it smelled delicious! So I gave it a try, and I was hooked after my first bite.
Pho soup is a national dish in Vietnam. It is a mixture of rice noodles, chicken or beef or vegetables and fresh herbs simmered in rich bone broth. Most of the time the broth is made the day before, so all the flavors have a chance to come together! But we don't all have time to make a bone broth from scratch. 
This Pho recipe is a cheater version of the traditional recipe. It only requires 30 minutes to cook. My easy recipe still packs the same great flavors, without all the fuss.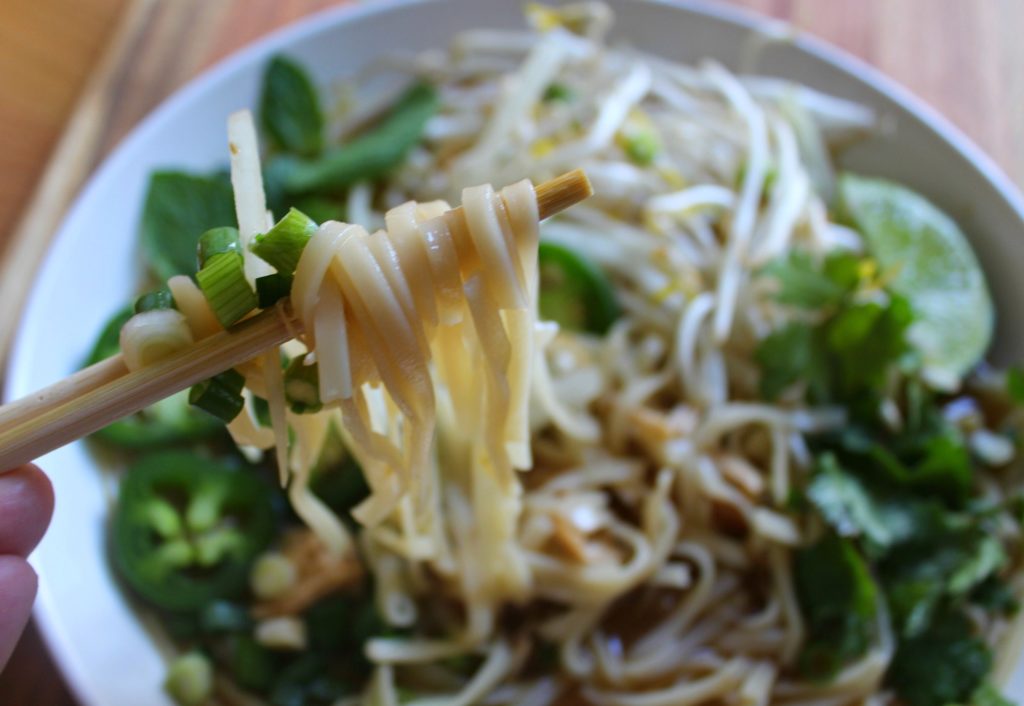 After you've transferred the soup to your serving bowls, it's time to add the herbs and spices. Add in fresh basil, mint and cilantro leaves to each bowl. These herbs really enhance the flavor and texture of the soup. Next, you'll want to add a little spiciness and sweetness to each bowl by squeezing in a lime wedge and sriracha. I'm in love with chili garlic sauce. I feel like its the perfect amount of heat for the dish. Next, add a small handful of organic bean sprouts and a sprinkle of sliced green onions with a few jalapenos to top it off! Your ready to start slurping away!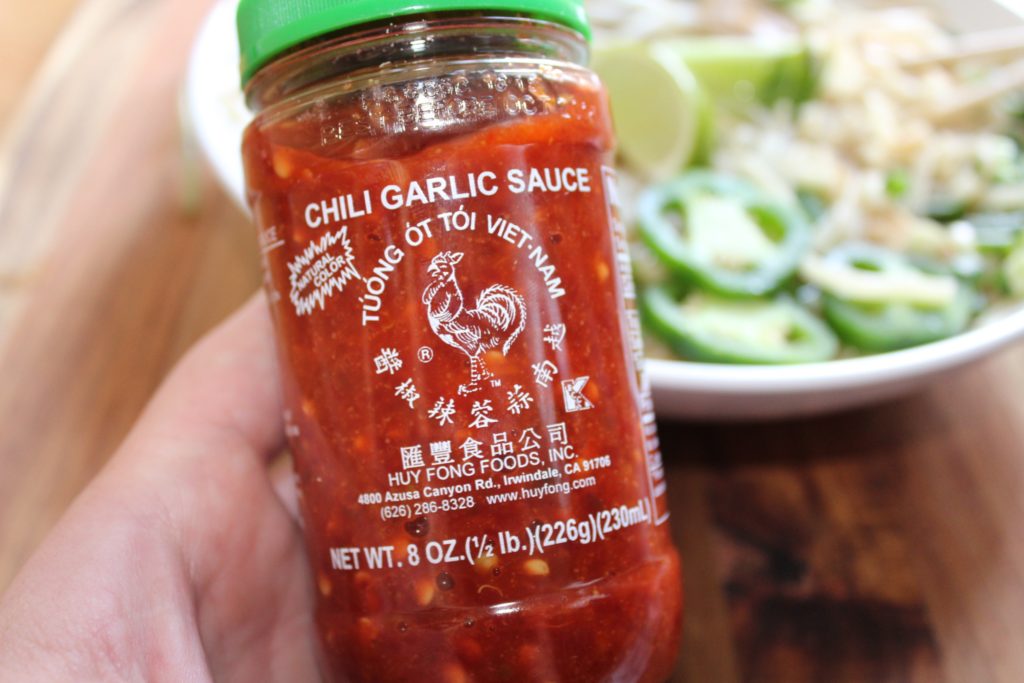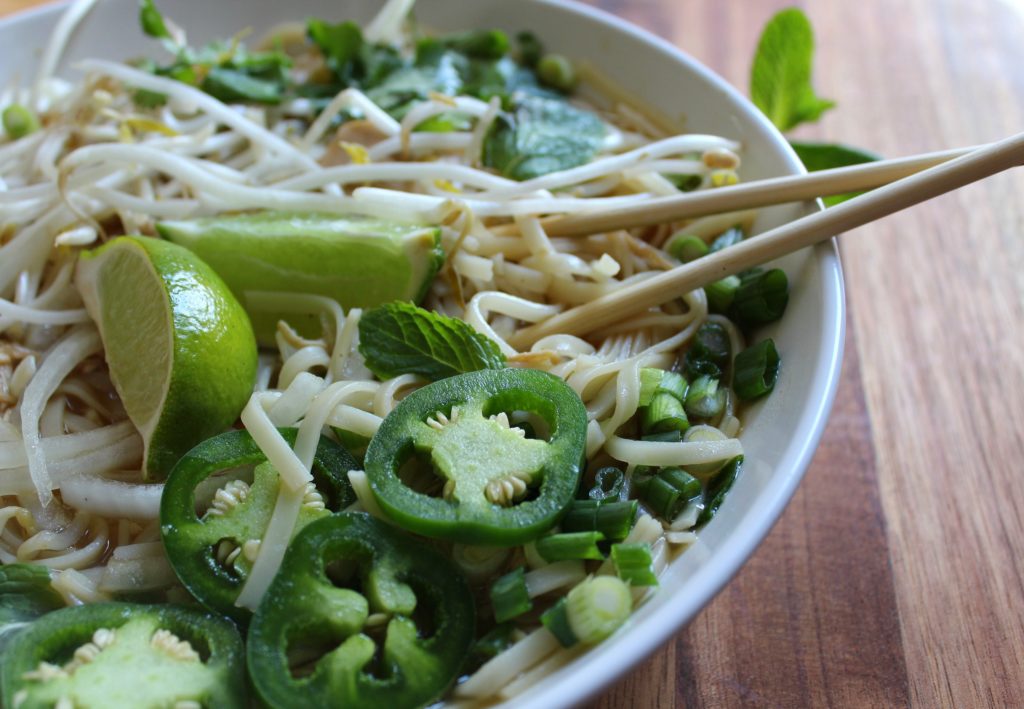 Feel free to experiment with the sweet or spicy ingredients. It's all about how you like your Pho to taste! I'd love to hear about it in the comments!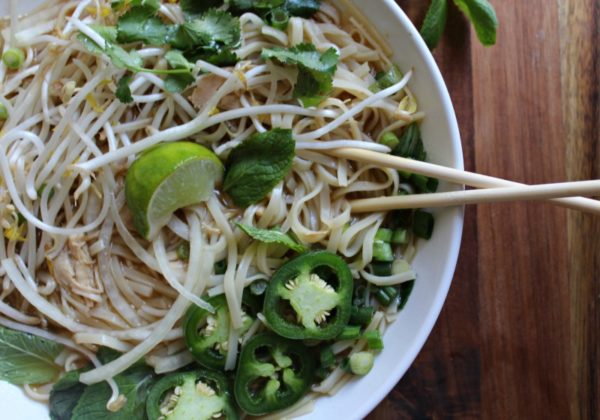 | | |
| --- | --- |
| | |
In a large pot, bring water to a boil and cook the rice noodles according to package instructions; drain and set aside.

In a separate large pot, add the shredded chicken, ginger and minced garlic. Saute for 2 minutes. Whisk in the chicken broth, fish and hoisin sauce. Bring to a boil; lower heat and simmer for 15 minutes.

Serve right away with the rice noodles. Top with bean sprouts, herbs, limes and bean sprouts or any optional sides, as you wish.