Hawaiian Pineapple Banana Nut Bread is a fresh take on the traditional banana bread. The sweetness of the fruit and the nuttiness of the walnuts make this moist banana bread perfect for breakfast or dessert.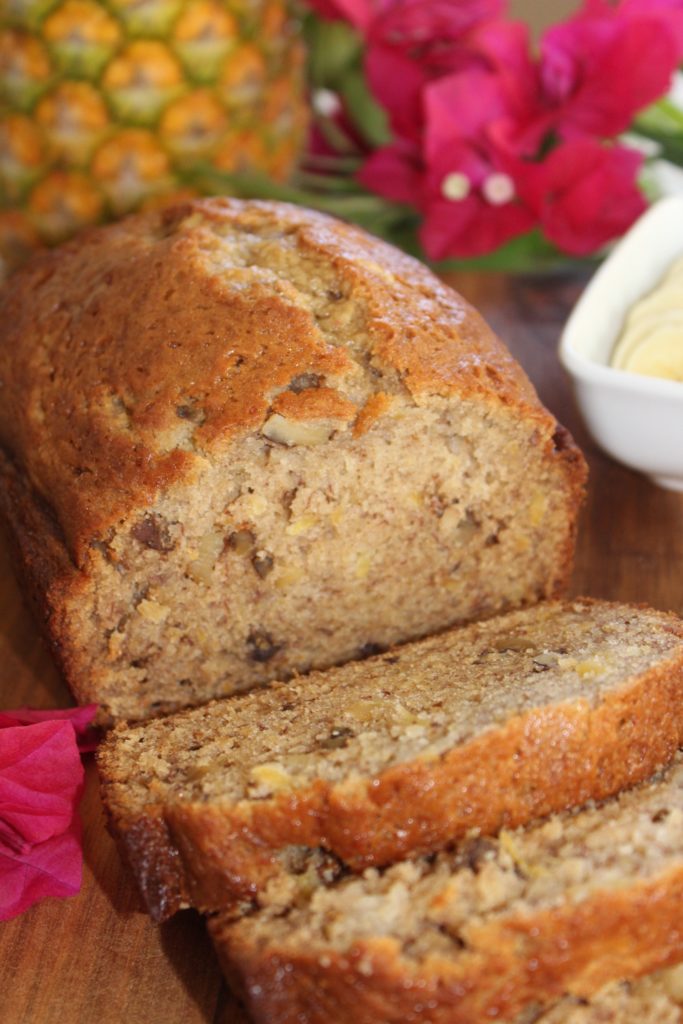 Back in February, I posted my first banana bread recipe that received an overwhelming positive response – and is by far the most popular recipe on my blog with 121K+ pins on Pinterest!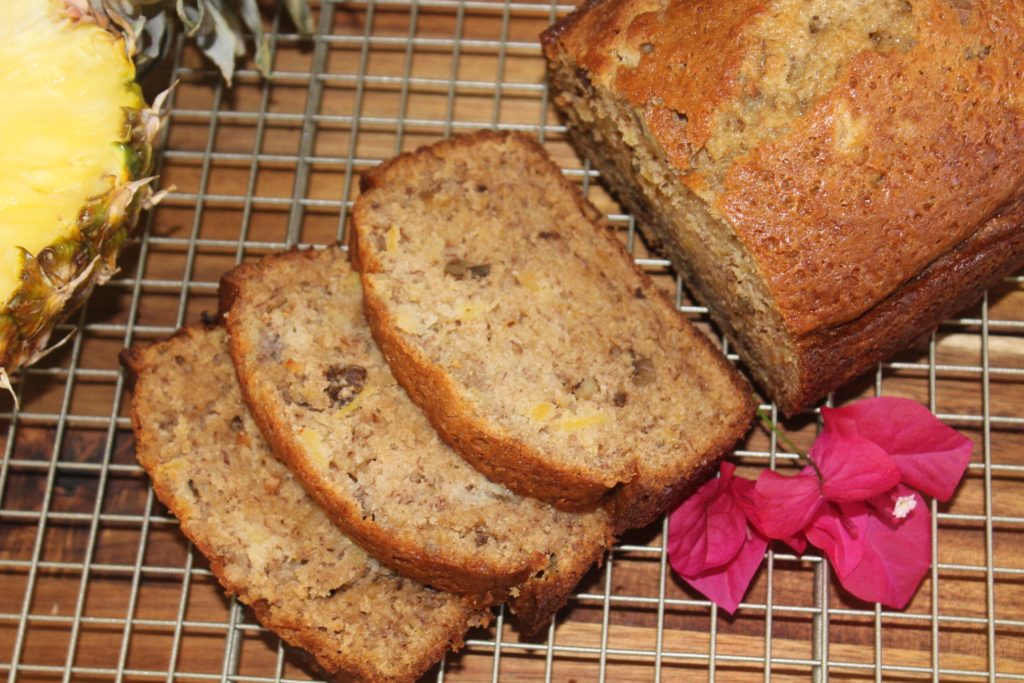 I was so excited when I recently snagged a copy of my mom's cookbook. It was the same cookbook that the Unbelievably Moist Banana Bread recipe originated from. A banana bread with pineapple was one I haven't tried before. I became instantly intrigued – I had to make it.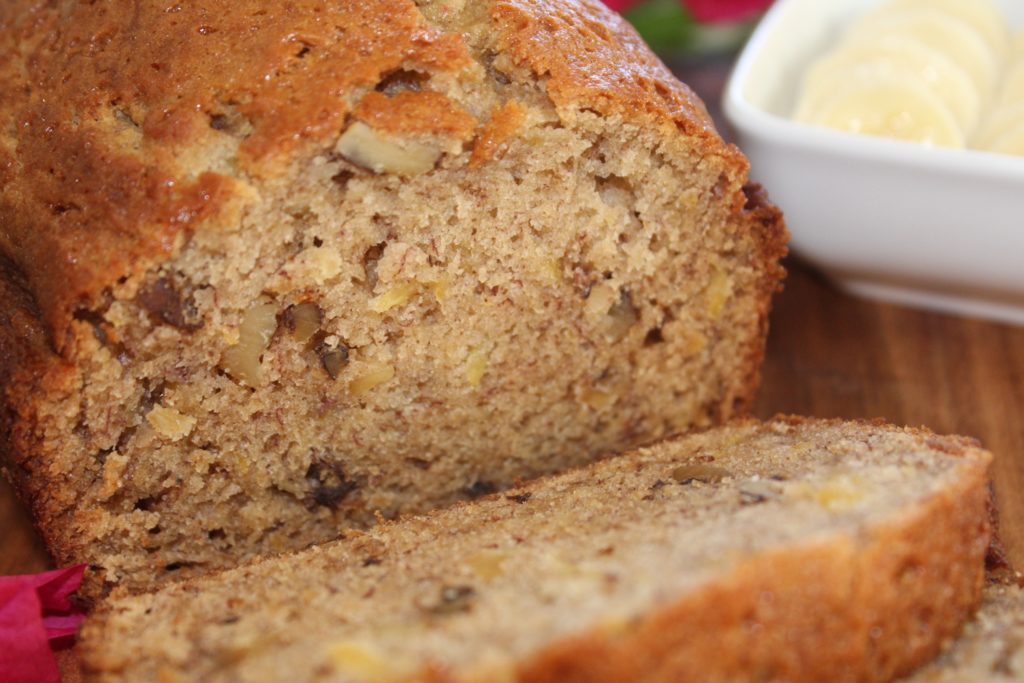 Using the large stainless steel bowl from my KitchenAid Mixer, I added all of the dry and wet ingredients. I set my stir speed to a 5 and let the beater tool do the mixing until all of the ingredients are well combined (about 1 minute). 
The key to achieving moist banana bread is letting the batter sit at room temperature for at least an hour before baking. I explain why in my below baking tips!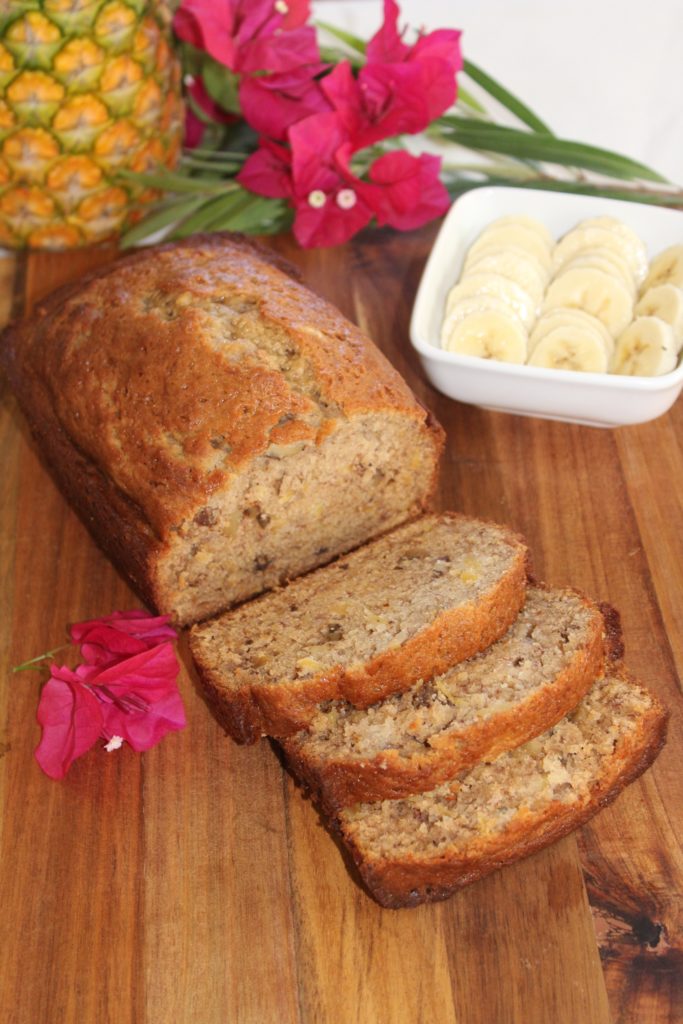 Related: Mini Banana Bread Bottomed Cheesecake, Five Minute Fruit Salad, Homemade Apple Crisp, Smore's Krispie Treats,
 BAKING TIPS
Once you've mixed all the ingredients together, let the mixture sit for an hour before adding into the pan for baking. *This is the secret to moist banana bread and trust me – it is worth it!

If you don't have ripe bananas, place them (with peels on) in a 240 degree oven for 15 minutes.

If you have ripe bananas, but won't be baking for a few days, peel and place them in the freezer until your ready.

You can make the banana bread ahead of time and place the loaf into a ziplock bag to freeze. When your ready, leave out to thaw.
*Resting the batter for an hour allows the dry ingredients to completely soak up the water from the wet ingredients and become thicker. 
INGREDIENT MODIFICATIONS
Vegetable Oil: You may use 1/2 cup instead of 1 cup. You may also substitute for softened unsalted butter.
All-Purpose White Flour: You may use any other flour alternatives (wheat,
Eggs: You must use the whole egg (including the yolk)
Sugar: You may cut back slightly, but no less than 1 1/2 cup. I highly recommend the 2 cups though. 
I would love to hear your ingredient suggestions for this recipe!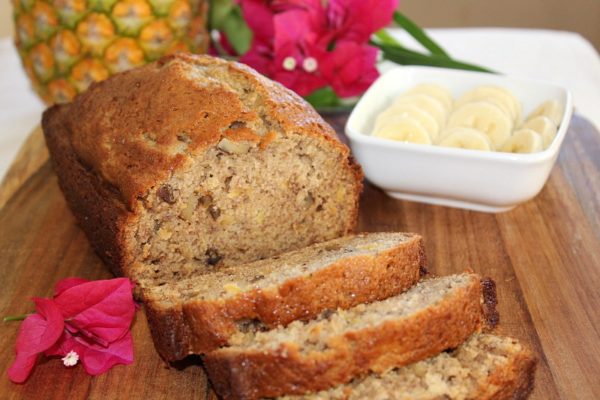 | | |
| --- | --- |
| | |
In a large bowl, mix all ingredients together and let the batter sit in the bowl for 1 hour. Use a standing mixer, if you have one.

Heat oven to 350 degrees. Pour batter into two greased loaf pans 3/4th's of the way. Bake for 1 hour 5 minutes. Or makes 4 small loaves.

Let stand until almost cool. Loosen bread from sides with sharp knife and set aside. Enjoy!
Batter should fit nicely into two 1.5qt loaf pans.