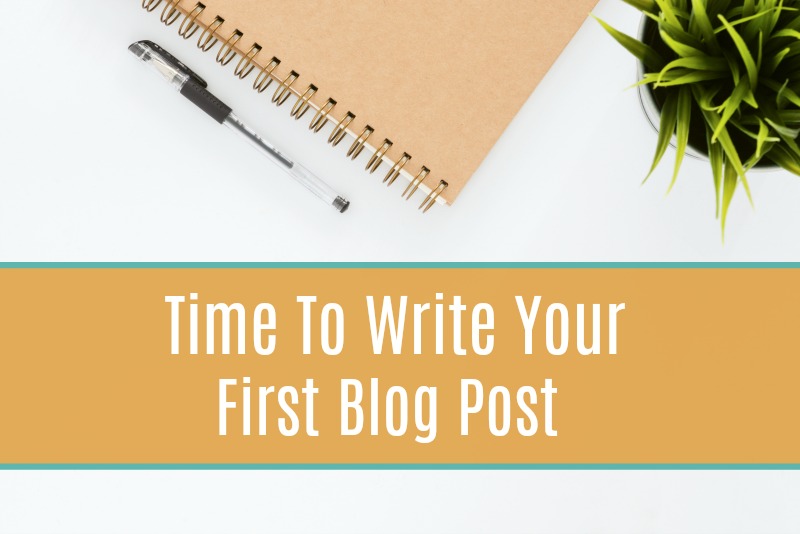 THIS POST MAY CONTAIN AFFILIATE LINKS. YOU CAN READ OUR FULL DISCLOSURE POLICY HERE.
YOU'RE READY TO START BLOGGING
You have purchased a hosting plan.
You have installed a theme.
You have installed WordPress and Google Analytics.
You have setup Social media accounts.
You are ready to go!
KEY POINTS WHILE WRITING
For some (including myself), writing is the hard part. It does not come naturally to me. I write, edit and edit even more. Even if you are not the best writer, with practice you will improve. Don't feel discouraged. Blog posts aren't written in stone. You can go back and edit your sentences at any time.
If you have any doubts on your writing, ask a friend to proofread and critique. From the beginning, my husband reads all of my posts before they are published. He writes notices and letters at his job all day long, so he is a much better writer than me. 
Your writing will never be perfect (mine certainly isn't), but do the best you can and write engaging content. For recipe posts, I developed a writing structure on how I want the post to flow. Non-recipe posts have their own writing structure depending on what the topic is about. 
Unless you're writing a novel or content you intend to sell, you can write the way you talk. Start by just writing whatever pops in your head relating to you blog post. Let all the ideas pour out and then circle back and edit.
Don't forget the WIIFM "What's In It For Me" that I talk about in this post.
Profitable blogs are a resource, not a diary. Ask yourself how you are benefiting your readers. What is in it for them?
WRITING YOUR FIRST POST IN YOUR WORDPRESS DASHBOARD
Log into your WordPress dashboard.

Select the "Posts" tab & click "Add New".

That blank white page is where you WRITE!

Enter a catchy post title.
Before you click the "publish" button; click "preview" to see what your post will look like on your site when you publish it. Click the "save draft" button if you need to save your work before you can finish (it won't publish it until you click publish).
CREATING AND ADDING IMAGES TO YOUR POST
Adding photos is a great way to enrich your content and break up verbiage. It not only catches a reader's attention, but it also showcases your post on the social media platforms.
When I first started blogging, I took really terrible recipe images with my old iPhone 5c. Ironically, they still bring in traffic from Pinterest because something about the recipe itself appeals to readers. I couldn't afford a nice digital camera until my blog started to become profitable.
Even though it is your first post, you need to create an image that represents your blog post. There are a ton of places to find FREE stock photos that are legal to use. There are paid sites too, but the free ones work just fine. How did you land on this post? Was it an image you saw or a catchy topic that peeked your interest? Maybe it was a combination of the two?
Google. You can find hundreds of sites offering free photos by simply googling "free stock photos" and seeing what's out there. I have never paid for an image yet. You shouldn't have to either unless you're looking for a specific image. You can also take your own photos of course. (Check out this list of free stock photo websites)
After you've found the image you want to use for your post – it's time to put text on it. This is especially true for Pinterest pins.
There are two FREE photo editing software options that I use. They are PicMonkey and Canva. I use PicMonkey for 95% of my photo editing needs and Canva for template creations. PicMonkey is FREE to use, however if you want the full photo editing features you will want to upgrade to the premium version at $7.99/month. Because I use PicMonkey with every single post, the premium version has been well worth the few dollars a month. Canva has a similar pay structure – free, but additional features come with a fee. 
In Abby Lawson's Building a Framework Handbook, she has an amazing tutorial (It's how I learned) on how to use PicMonkey and Canva for your blog.
Once you've designed your images, save them to a file on your computer. Then click "add media" and upload into your media library. Give the image a title, short description (optional) and copy/paste the title into the alt text box as well (in a future post I will discuss why this is important). Then click "insert into post".
ONE (or two) LAST THINGS
Don't forget to create categories for your post to be assigned to. This will help organize your content under the appropriate category in your menu. If you aren't sure what I'm talking about, I discuss the importance of menus and categories in this post.
Also, do NOT to use the "uncategorized" category option. It is a default that comes with your blog and you shouldn't use it. It will make your blog look unprofessional and unorganized. 
Now go my friend – start writing your first blog post!
Lesson 7: Blog Monetization Plan (coming Feb 1st, 2018)