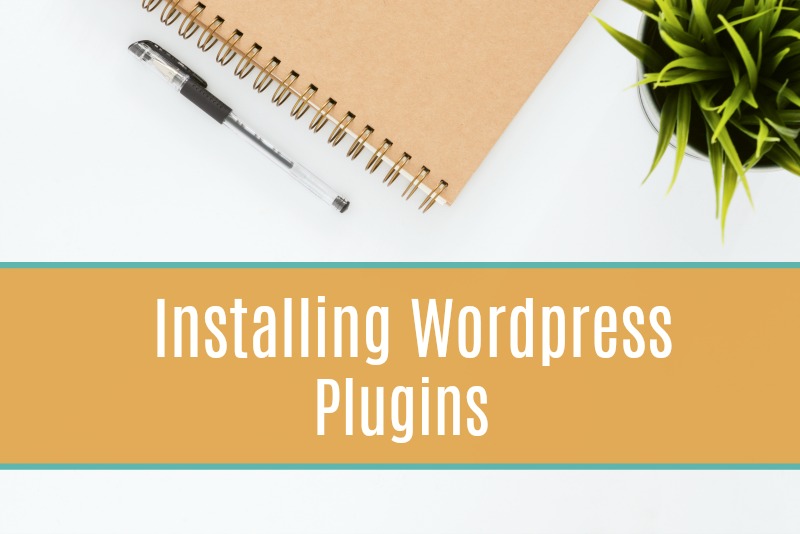 THIS POST MAY CONTAIN AFFILIATE LINKS. YOU CAN READ OUR FULL DISCLOSURE POLICY HERE.
WHAT IS A PLUGIN?
Plugins are a great way to further expand the functionality of your blog. There are thousands of free plugins to choose from, including many premium plugins. We use plugins for adding social media buttons, tracking traffic growth, and adding SEO programs (like Yoast).
So what exactly is a plugin?
It is an extension of your site, similar to an app you would use on a phone. A theme can only do so much, that's where plugins come in.
Having a self hosted WordPress site allows you to install plugins. On free platforms like blogger or wordpress.com, you can not install all plugins. This hinders your blogs functionality big time!
FYI ON PLUGINS
WordPress plugins are fantastic, but they can come with some headaches.
For one –  if you have too many plugins, your site can slow way down. Your visitors will make there way to your pages and they will be waiting and waiting and waiting…for the page to load. They may get frustrated and leave before they had a chance to read your awesome content!
It won't always be because of the number of plugins that slow down your site. Other things like large media sizes or even ad networks can be the causes too.
My recommendation is only keeping the plugins you truly need. You don't want to go all willy nilly installing every plugin that looks like a cool feature to have on your blog. Sometimes its best to weight whether you truly need it. If you don't, delete it – don't just deactivate it! You can always re-install if you need it in the future.
Since Plugins have code, they can come with bugs. You'll be safer using only WordPress plugins that have positive reviews and get updated regularly. With so many plugins available where anyone can write the code for, there are bound to be a few that have bugs and could reek havoc on your site. If this happens, delete the plugin and see if it helps.
I have used many plugins since I started blogging, and only had a tiny issue with one. So you shouldn't be scared after reading this!
MUST HAVE FREE WORDPRESS PLUGINS
I highly recommend the following list of free plugins to use on your blog. These are the most important plugins every new blog needs to install before launching.
JetPack by WordPress.com – It adds a ton of simple features to WordPress like site analytics, optimizing images, increased security, contact forms, and tons more! As you can see in the photo above, it's one of the featured plugins with over 1 million active installs!
Akismet – This plugin blocks spam comments (trust me, you'll want this because you will get spam otherwise).
Yoast SEO – I love Yoast! This is the plugin that is extremely helpful for SEO. It improves your blog's "Search Engine Optimization" to increase rankings in search engines. It also analyzes your content as you write a post for readability and SEO. Yoast SEO has a number of other essential features like XML Sitemaps, Social buttons and loads more!
SHOULD HAVE PLUGINS:
Social Sharing plugin:
Social sharing plugins are EXTREMELY important. You want people to see your content and the ability to share it.
There are tons of social sharing plugins out there.
The social sharing plugins I use are Social Pug and Simple Social Icons. I LOVE them both and neither slow down my site speed. The floating sidebar on my homepage is Social Pug. I use that to share my newest posts and readers share on their selected platforms. The simple social icons plugin are the little buttons in my right sidebar and footer.
Most of my traffic comes from Pinterest. It was imperative that I had a Pin it button readers can use to share my images to their Pinterest boards. For this I installed a plugin called "Pinterest Pin It button". When someone hovers over an image in my post, a pin it button automatically appears. If you intend to use Pinterest to share your content, get yourself on of the Pin it buttons  from the list of plugins.
Email Collection Plugin:
One thing I wish I started sooner was email collection. Unfortunately, I was so focused on writing posts in the beginning, this step was missed. A few months later, I started out with the free version of Mailchimp. It was painfully hard to learn how to use. I gave up. I'm in the process of finding a new email collection service that is not insanely expensive.
Most of the paid for themes include an opt-in form that can be placed in your sidebar and footers. This has worked well for me thus far. I also installed a free plugin called Hello Bar. It is awesome. It's a toolbar that sits at the top of my homepage asking readers to subscribe to receive weekly posts. With the new email collection service I choose, I hope to migrate all subscribers from thehello bar and the free form on my site. Stay tuned.
HOW TO INSTALL FREE PLUGINS IN WORDPRESS
Go to the "Plugins" tab on the WordPress dashboard, click "add new".
In the search box on the right hand side at the top – enter in the name of the plugin in the search box, and hit enter. Find the plugin in from the list that populates and click the "install now" button.

Your installed plugins list will appear. The plugin should already be activated. If not, click the "activate" link. Be sure to read the installation instructions if there are any recommended settings the developer needs you to set up.
THAT'S IT! You've installed a plugin!
Lesson 6: Write Your First Post