These Chocolate Pumpkin Cupcakes with pumpkin cream cheese frosting are every pumpkin lovers dream. I decided that today was the day I was going to whip up a halloween inspired treat!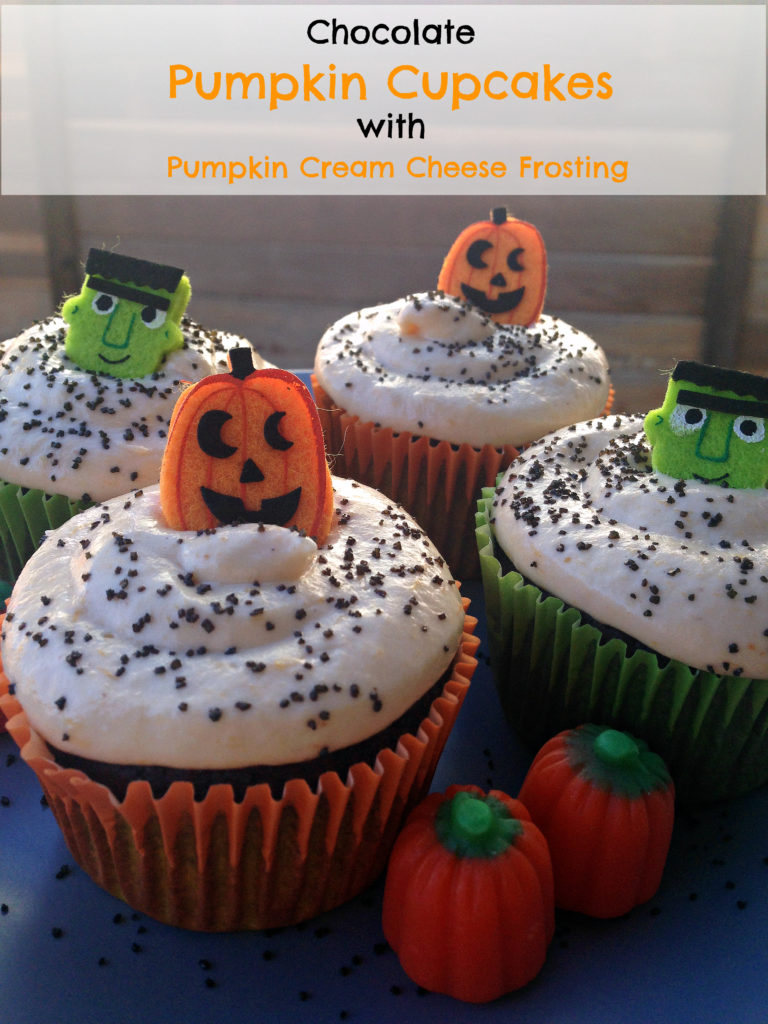 On a whim, I was rummaging through the $1 bin's at Target (which I do often) this weekend and spotted these cute little Frankenstein and Pumpkin stickers. I immediately became inspired to plop them on a cupcake.
Thus these Franken-Cakes were created…with a couple Pumpkin heads.
The recipe if fairly simple, with the addition of canned pumpkin and cinnamon to really make it a Fall treat!
I love anything chocolate, so I went with the Betty Crocker Super Moist Chocolate Cake Mix and used my KitchenMaid mixer to do the stirring for me. In only a few minutes the chocolate/pumpkin batter was ready to be baked in the oven.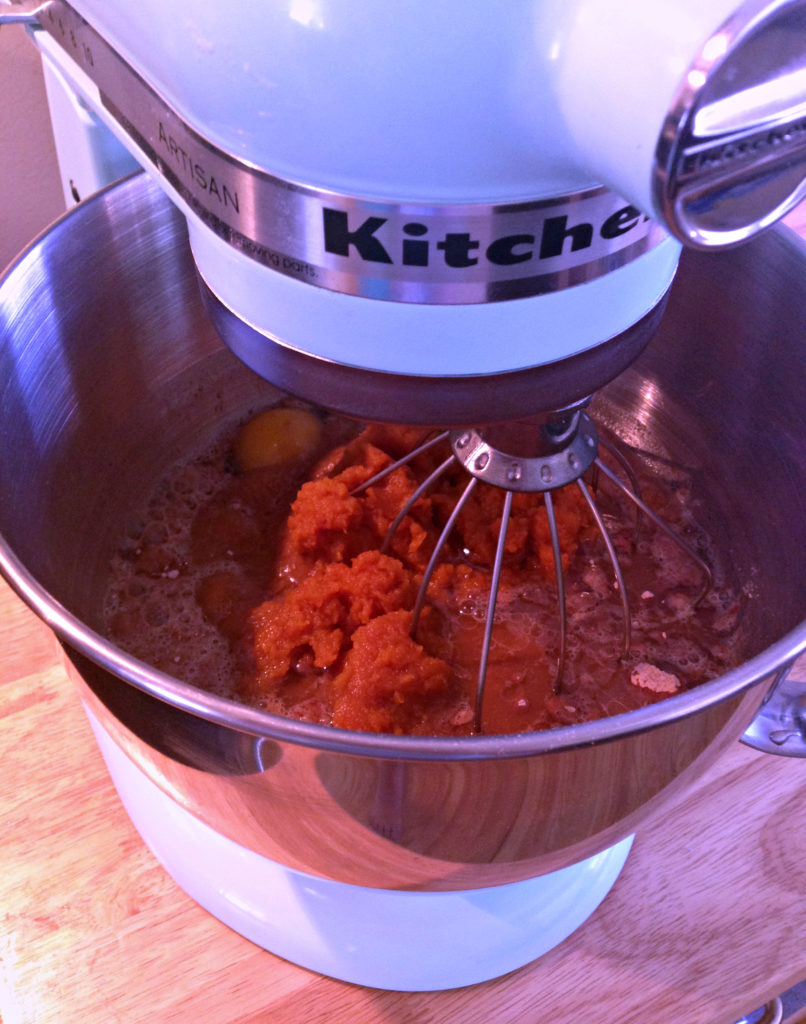 Next up was preparing the cream cheese. I am obsessed with cream cheese. Then to add to some pumpkin and cinnamon gives it that nice fall flavor.
It's amazing how many different flavors you can make with cream cheese.
The pumpkin cupcakes are perfect for any occasion, not just when Fall rolls around. My husband ate 3 off the bat before I could even get the little frankenstein stickers on. I had to slap his hand away so he could let me create these before he finished off the first batch #greedypumpkineater.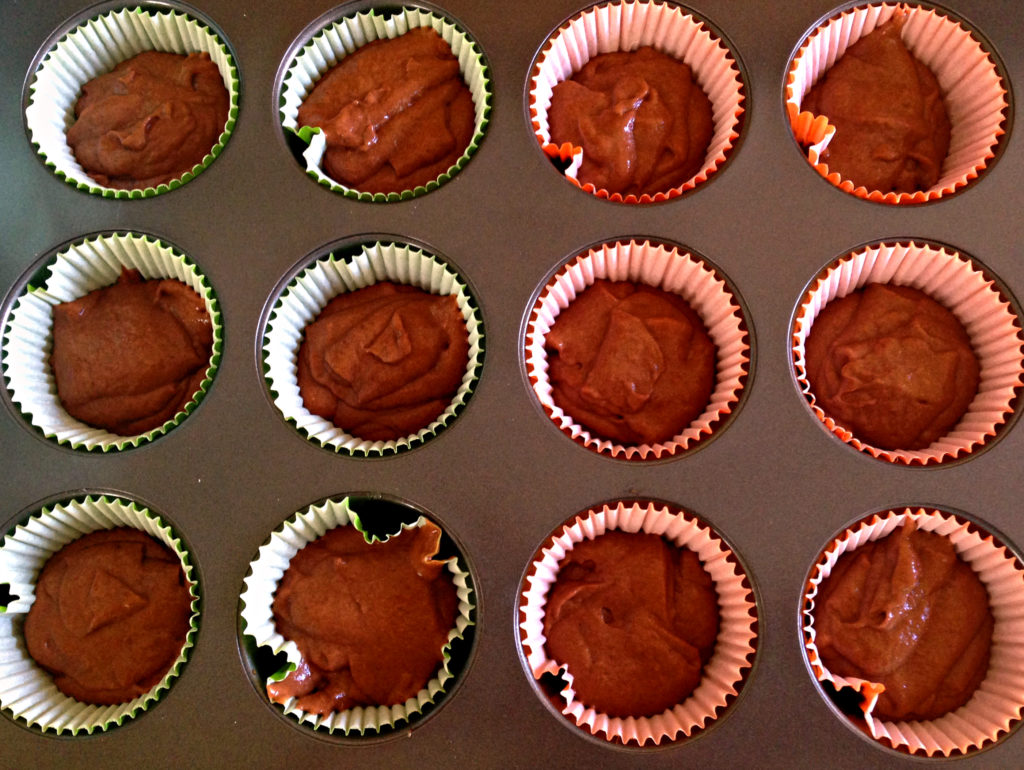 I used the old school trick of using a Ziplock bag as a pastry bag for the frosting. Worked like a charm. I'll invest in one some day, but the swirls of frosting came out how I wanted to.
Happy Baking!!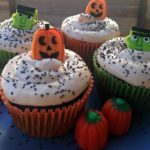 Treat yourself and your guests to a Halloween inspired chocolate pumpkin cupcake with creamy pumpkin cream cheese frosting.
Servings

Prep Time

12

servings

10

minutes
Cook Time

Passive Time

20-25

minutes per batch

30-35

minutes
Servings

Prep Time

12

servings

10

minutes

Cook Time

Passive Time

20-25

minutes per batch

30-35

minutes
Treat yourself and your guests to a Halloween inspired chocolate pumpkin cupcake with creamy pumpkin cream cheese frosting.

Servings

Prep Time

12

servings

10

minutes

Cook Time

Passive Time

20-25

minutes per batch

30-35

minutes

Servings

Prep Time

12

servings

10

minutes

Cook Time

Passive Time

20-25

minutes per batch

30-35

minutes
For the Chocolate Cake Mix
For the Pumpkin Cream Cheese Frosting
Preheat oven to 350 degrees

Put cupcake liners into 12 muffin tin pan. In a large bowl or kitchenmaid mixing bowl, mix the cake mix, canned pumpkin, eggs, vegetable oil, cinnamon and nutmeg until blended and creamy. Each liner should be 2/3 of the way through with batter. Bake for 20-25 minutes/per batch. Use a toothpick to check doneness (done when toothpick comes out clean)

After the cupcakes have completely cooled, start making the frosting. Beat together the cream cheese and softened (not melted) butter until smooth. Add the powdered sugar, pumpkin and cinnamon until creamy. Frost cupcakes however you wish. Enjoy! 🙂